How to arrive to Isla de la Juventud?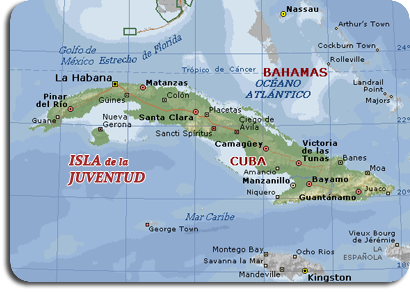 Isla de la juventud is in the Western South region of Cuba, about 150 kilometers (93 miles) from Havana; capital of Cuba and can be reached easily by air or sea.
That means you can get to the island in two different ways from outside of Cuba:
You can fly directly to the international airport Jose Martí in Havana and take another plane from there to Nueva Gerona, capital city of Isla de la juventud.

The national airport ""Rafael Cabrera Mustelier" is located 5 Km. (3.5 miles) from Nueva Gerona, it receives domestic flights from the International airport "Cayo largo del sur" and the International airport of Havana; Jose Martí.
On the other hand, you can reach the Island by boat. When in Havana, you go the Municipality of Batabanó;to the Caribbean Cuban Shipping company (NCC) and take on of their catamarans air conditioned with a capacity of 237 passengers.
The trips takes approximately 2 hours and 40 minutes between Surgidero of Batabanó (Habana Province) and Isla de la Juventud.
Or you can go directly to Cayo largo del Sur and take a second flight to Nueva Gerona. (Capital city of Isla de la Juventud.

Cayo largo del sur is located in the archipelago of the Canarreos. It beongs to Isla de la juventud and is surrounded by several keys like: Rosario, Cantiles , Matías and Avalos…
The International airport "Vilo Acuña" is found in Cayo largo. It receives regularly flights from Europe, America and any region of the country.