EL COLONY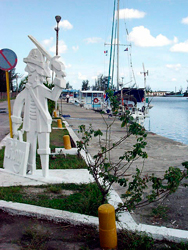 Operator: Marlín Náutica y Marinas
Address: Highway Siguanea, km 42.Isla de la Juventud
Phone:
Email:
Instructors:
Diving boats: for 10, 12 and 16 divers.
Diving on the Isla de la juventud began in the 70s and today remains as one of the most popular destinations in Cuba due to the large number of international events, as "photosub" that have been held there. From about two years ago, this event is celebrated in Cayo Largo del Sur.

The Punta Frances Marine National Park is the location of the diving spots, usually calm water with extraordinary visibility. The abundance of limestone throughout the island produces multitudes of caves that were perfect for pirates and privateers to hide their boots ... today are perfect for divers.

From Colony Marine you can dive in 56 dive sites, all of them are within an hour away by boat from the dive centre.

All dive sites are famous for their deep tunnels, canals and underwater valleys. There are a variety of corals (more than 40 different types), such as elkhorn, staghorn, black coral, brain, lettuce, fire ... The marine fauna is abundant as there are reef fish, barracudas, the groupers, sea bass, grunts, turtles.....

Wrecks lovers will find a paradise in an area called Bajo de Zambo, there they will find a real graveyard of wrecks with more than 70 shipwrecks.

Other areas of good dives are "La cueva azul" Diver's Hideout, the Wall Reef, "El arco de los sábalos", "El sitio de todos" and "Cabeza de las isabelitas".

Wall lovers will find Indians walls and lovers of wrecks, sunken ships, where the remains are in an area of ​​shallow water.
Services
Hyperbaric Chamber: - In the diving center El Colony.
Hotels
CAYO LARGO DEL SUR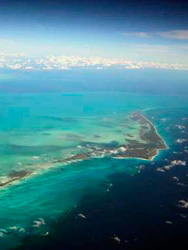 Operator: Marlin Náutica y Marinas
Address: Cayo Largo del Sur
Phone:
Email:
Instructors: 4 (CMAS o ACUC)
Embarcaciones de buceo: 1= 12 divers
Cayo Largo del Sur has one of the most beautiful sea sites of the country. It is very abundant in passing by species. It has a wide variety of sponges, corals ... it is one of the most pristine areas of the Caribbean.

The average temperature throughout the year is 26 ° c.

The diving area is divided into three spots:

1 - El Ballenatos, is the closest to Cayo Largo, it has a typical coral setting with lettuce, brains, elk, gorgonian. It has rocks and channels that descend from 18 meters (59 feet) to about 33 meters (108 feet). There are also a lot of reef fish, turtles, crabs, eels....

2 - Cayo Rosario is close to the Key with the same name 29 km (18 miles) west of Key Largo.

It has great labyrinths of coral where we find jacks, and catalinetas banks... There is an average depth of 18 meters (59 feet).

3 – Golfo de Cazones , in this area there are spectacular wall sites vertically falling from 15 meters (49 feet) to more than 200 meters (656 feet). You can see large tubular sponges and gorgonians, black coral colonies and fish as snappers, barracudas ... It is located 48 km (30 miles) northwest, near Cayo Sigua and Cayos Blancos.
There are a total of 32 dive sites:
Acuario I (15 mts)

Abismo (15 mts)

Albert Point (28 mts)

Banco Blanco

Camila Ref

Canal de Espondrilus (25 mts)

Cañón de Cayo Blanco (15 mts)

Cañón de Cayo Sigua (15 mts)

Cañón de Martín (25 mts)

El Pino

El Valle de las Gorgonias

La Estatua

La Pared del Pescador

La Montaña (25 mts)

Las Cadenas (15 mts)

Los Ballenatos (13 mts)

Mano de Dios

Russi Wall

Tony Point (18 mts)

Tunicas Ref.
Services
- Hyperbaric Chamber:

- General Teaching Hospital Héroes del Baire; Nueva Gerona.

- Naval Hospital , La Habana 199 Km.
Hotels

- Hotel Sol Cayo Largo
- Hotel Sol Pelícano
- Hotel Playa Blanca
- Hotel Villa Marinera Cayo Largo del Sur
- Hotel Villa Soledad
- Hotel Villa Coral
- Hotel Isla del Sur